Food Scientist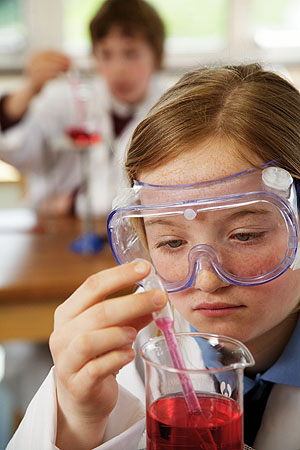 Who makes drink mix taste like lemons? Who can create hot dogs out of soy beans? Who keeps your food safe and healthy? Who came up with the idea for pudding in a cup? Food Scientists! 

Food Scientists study the science behind the foods you eat. They work for food companies, suppliers, the government as well as universities.
Food Scientists can work in many areas such as product development, sensory science, food microbiology, and chemistry, just to name a few. Those in product development create the new products that you see at the store. Sensory scientists investigate what consumers like, why they like it, and if a change is needed. For example, would consumers like more cherry flavor in their juice or more lemon in their lemonade?
Those working in food microbiology do tests to make sure products will still be safe to eat after the foods sits on a store shelf. Chemists develop food flavors and all the ingredients that make something taste as it does.
Food Scientists obtain a bachelor's (4 years) or master's (bachelor's + 2 years) degree in Food Science and then choose an area of concentration such as the ones discussed above. Students take classes in a variety of areas including chemistry, engineering, microbiology, product development and nutrition.
Find Out More:
The Institute of Food Technologists (IFT) has created an area on its website to share information about Food Science. The association also worked with Discovery Education to create videos and other learning materials about the career. Below are two links if you would like to explore the websites on your own:
Find Out What Food Scientists Do Each Day – Click the first link below to access two short videos of Food Scientists who work at Disney and NASA to find out what they do in their daily work.
Click this second link and scroll down on the page to "Career Information". Here you will find a list of people working in the field. Click on their names to learn about their day-to-day activities, where they went to school, and other fun facts about their careers! Which career path sounds the most interesting to you?
Learn about the Many Opportunities in Food Science – There are a lot of opportunities in Food Science. In this video you'll get to see real people as they describe the many types of projects they get to work on. Pay close attention and you'll meet the man who helped create pudding in a cup, and a woman who makes hot dogs from soy beans!
Learn about Where Food Scientists go to School and What Courses they Take – Click the link below to download videos and watch as real Food Scientists tell their stories!